West's American Tribal Law Reporter
Published by West, the American Tribal Law Reporter, though it contains perhaps the most extensive collection of tribal court decisions, reports decisions from only a limited number of tribes.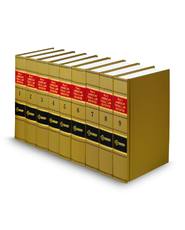 West's American Tribal Law Reporter
Law Library maintains print in Native American & Indigenous Peoples Collection. USD Law Library currently subscribes to this database via WestlawNext. The subscription began in May 2014.
Oklahoma Tribal Court Reports
A unique resource collecting Oklahoma tribal case law is the Oklahoma Tribal Courts Reports (OTCR). The OTCR was initially published in 1994 by the Native American Legal Resource Center at Oklahoma City University. Although the initial publication was in 1994, as evidenced by the Index of Cases Reported (chronologically) in Volume 1 of the OTCR, there are case opinions dating from as far back as 1979. The most recent volume of the OTCR, Volume 9, was published in 2008 and covers cases from 2000-2006. The OTCR is edited by Dennis W. Arrow, a professor at the Oklahoma City University School of Law and the Associate Director of the Native American Legal Resource Center.
While the OTCR provides complete opinions, as acknowledged by the editor, it is "an 'unofficial' case law reporter, and the authoritative texts are the original opinions and orders filed with the clerks of Oklahoma's tribal and C.F.R. courts."
Although the OTCR is available on Westlaw, it is not part of the West National Reporter System described in Chapter 6. Thus, the OTCR does not have many of the editorial enhancements of West reporters. Arrow has, however, provided some enhancements. For instance, each volume of the OTCR contains four indexes of cases reported. These indexes list cases alphabetically by party, alphabetically by tribe, chronologically, and by case number. Additionally, Arrow has provided headnotes for each case. The structure of the headnote system is original and is dissimilar to the LexisNexis or West headnote structure. The headnote structure is set forth in the blue appendix pages in each print volume. (See Figure 10-1.) Unfortunately, the headnote system may be of limited value in locating cases with similar headnotes because only Volume 1 of the OTCR contains a digest following the headnote structure. Of course, a keyword search for headnote terms can be conducted when researching the OTCRon Westlaw.
Some tribal court opinions may be located on tribal websites. However, many tribal courts do not yet routinely post opinions to the web or provide a systematic means of searching for opinions. The National Indian Law Library Tribal Court Gateway (http://www.narf.org/nill/triballaw/) links to individual tribal court web sites.
The Northwest Intertribal Court System provides free online access to appellate opinions for 30 tribes in Alaska, the Pacific Northwest and Northern California, available at http://www.codepublishing.com/WA/NICS/.